"We know what we are, but know not what we may be." – Shakespeare
To schedule an appointment or make a referral, just call. We will work earnestly to ensure that the first appointment occurs in a timely fashion. And if you plan to use insurance to help pay for treatment, we will help with authorization issues and we will bill your insurance company for you. We will also assist you in learning the details of your mental health benefit so that you know what to expect. Dr. Bates and Dr. Soleck are providers for many major insurance programs.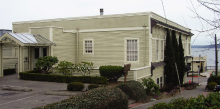 LOCATED IN OLD TOWN
Tacoma Psychology is located in historic Old Town at the corner of N 30th & Starr; our entrance is in the back of the building. Parking is available either on 30th Street, alongside the building on Starr Street, or in the lot behind the building. As you get out of your car, be sure to take a moment to enjoy the beautiful view of Commencement Bay! The semi-private entrance shown above leads directly to our office.